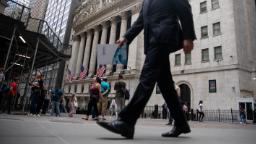 After weeks without a clear driver for markets, Evergrande's trouble came at just the right time to trigger a massive selloff. Analysts have long said a correction of prices was necessary given how long the recovery rally has been going on.
But after Monday's steep drop, things seem to have calmed down. Wall Street opened with green arrows across the board but had a volatile session and finished only mixed.
The
Dow
(INDU)
ended 0.2%, or 51 points, lower. The
S&P 500
(SPX)
also fell 0.1.%, while the
Nasdaq Composite
(COMP)
closed 0.2% higher.
The 10-year US Treasury bond yield inched higher to 1.32% around the time of the close. Yields fell and prices rose Monday as investors rushed into the safety of Treasuries.
What's next for Evergrande?
Should the conglomerate actually default, the aftershocks would likely ripple across financial markets, bringing up memories of the financial crisis on the thirteenth anniversary of the collapse of Lehman Brothers.
But unlike Lehman Brothers, an Evergrande default — should it even come to that — might be much more contained and only affect selected financial institutions.
What's next for Wall Street?
Even without Evergrande, Wall Street had a lot going on.
"We've been in the camp that we're overdue for a correction, something in the 5-10% range that is a buyable pullback and we seem to be getting that now," said Cliff Hodge, chief investment officer for Cornerstone Wealth. That's why he wasn't worried about a market crash even as stocks tumbled Monday.
Other things are indeed weighing on the market.
Economic data could be choppy in the months ahead. Tuesday's release of August housing data showed a higher number of building permits and housing starts than expected.
"While concerns over contagion from China's Evergrande bond debacle helped spark the selloff, fiscal policy worries were more the culprit," wrote economists at Action Economics in a note to clients.
And if that weren't enough, the Federal Reserve's two-day policy meeting gets underway Tuesday ahead of the central bank's official update on Wednesday.
Just a few weeks ago, investors were convinced the Fed would announce a rollback of its pandemic-era stimulus measures this week. But a disappointing August jobs report and worries about how much Delta is slowing the recovery have pushed out expectations for a tapering of stimulus until later this year.


CNN