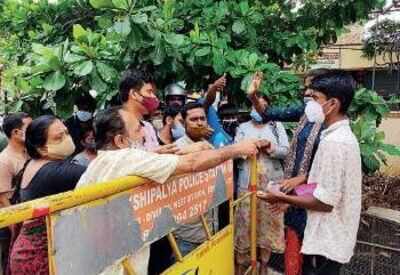 A large number of people turned up for Covid-19 tests at a government hospital in the city on Saturday
BENGALURU: Clubbing of swab samples for pool Covid-19 testing has been nearly stopped in the state as positivity rates continue to surge. The approach was adopted in May 2020 to conserve resources, and it was halted in Bengaluru last month and in other districts recently.
Pool testing is suggested only when a district's positivity rate is below 5 per cent. Currently, several districts have a rate of more than 20 per cent.
In the said approach, a suspected Covid patient's nasal and throat swab samples are put in a liquid medium in a tube. One drop each from four other samples from the same area is pooled and tested. If the cumulative batch turns out to be negative, there is no need to test the five samples individually. If the batch comes positive, all five samples are tested separately.
At the moment, the majority of the samples are individually processed. Lab workers say this is taking more time and resources.
Deputy chief minister CN Ashwath Narayan, who heads the state Covid task force, said pool testing was not being conducted as all districts had a positivity rate of more than 5 per cent. "Pool testing has come down drastically, up to 90 per cent. It's done in only a few places, where the positivity rate is below 5 per cent, to determine the Covid status of primary contacts. Instead of five samples, labs are clubbing two samples now," he said.
At present, Karnataka is testing nearly 1.2 lakh samples a day. Experts say the effort should be ramped up and rapid antigen test (RAT) kits, which produce results within 30 minutes, should be used to determine the status of symptomatic people.
"Testing needs to be increased. When there is a surge, rapid antigen testing must be used in up to 30 per cent of the samples, especially for symptomatic patients. If these tests come negative, RT-PCR tests must be ordered," said virologist Dr V Ravi, who is a member of the state technical advisory committee on Covid-19.
Ashwath Narayan said the government was focusing more on targeted testing instead of random checks. "Pool testing was followed earlier when the positivity rate was low. Now, the focus is on testing symptomatic people at the earliest, isolating them and starting treatment," he added.
Health workers said there was a shortage of RAT kits. According to the state Covid-19 bulletin issued on Saturday, 1.1 lakh tests were conducted over a 24-hour period. Of these, only 8,326 were rapid antigen ones.
Ashwath Narayan said there was no shortage of RAT kits. "We have more than 30 lakh each of RT-PCR and RAT kits. Recently, we received 50,000 RAT kits. We have initiated the procurement process to buy 50 lakh more RT-PCR kits," he said.
FacebookTwitterLinkedinEMail