MUMBAI: Additional municipal commissioner Suresh Kakani said on Monday that the BMC was likely to get a stock of 1 lakh doses between by Tuesday morning. The BMC will, for the first time, also do vaccinations in a non-healthcare setting, the Kohinoor Parking lot in Dadar, from Tuesday.
The BMC continued with its token drive for the 18-44 age group for the third day in a row, immunising 2,394 from the lot of 20,000 vaccines it got from the state government.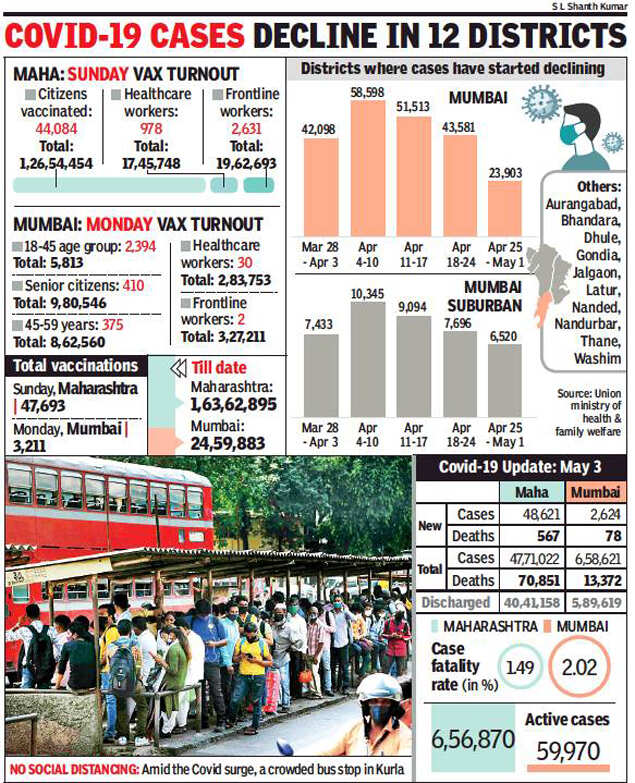 Although the drive for over 45-plus was halted for four days due to a stockout, the daily update showed that 410 shots were given to senior citizens and another 375 in the 45-59 age group. "This was given in private hospitals that have started vaccination using stocks they have perhaps purchased directly from Serum Institute of India," said BMC executive health officer Dr Mangala Gomare.
HN Reliance Hospital in Girgaum and Apollo Hospital in Nerul were the private hospitals that started the drive, and Nanavati Hospital will start Tuesday onwards. A civic official said that private hospitals can vaccinate any age group with vaccines they procure.
Meanwhile, as per data from the Union health ministry, Maharashtra on Monday had 23,547 doses of doses left but 10.5 lakh more were in the pipeline and would be received by the state in the next three days.
It also said that percentage of wastage reported by the state was 0.2%. Maharashtra carried out a record 5.5 lakh vaccinations in a day a few days ago and the state has been demanding adequate stocks as per its performance.
Public health minister Rajesh Tope said the state could scale up its capacity to vaccinate eight lakh daily, but the pace has been affected due to the shortage. A state official said the 10.5 lakh stock in the pipeline will merely last three days. "We are hoping to get some stock by Tuesday, but there is no clarity on the quantity," said the official. On Sunday, the state managed to vaccinate 47,693 people.