AHMEDABAD: As the Covid-19 pandemic rages and demand for beds with oxygen surges in the city, in one month from the end of April, the Ahmedabad Municipal Corporation (AMC) added 5,492 beds with oxygen and in ICUs.
The highest increase in this inventory is seen at private hospitals, requisitioned by the civic body, with the addition of 3,393 beds. As additional 1,246 oxygen beds have been added at nursing homes.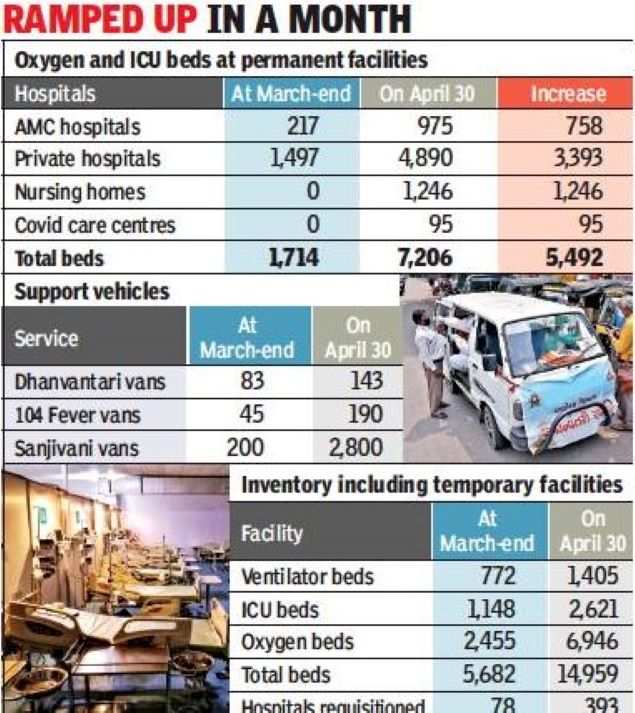 At AMC-run hospitals, 251 beds were added at SVP Hospital, 138 at Shardaben Hospital and 240 at LG Hospital. This is by far the largest increase in beds in a month during this pandemic. In the next three or four days, AMC will add 100 more oxygen and ICU beds at its hospitals. "We have increased 95 oxygen beds at civic-body run Covid care centres and 48 oxygen beds at Samras Hostel," said a senior AMC official.
At a review meeting last week, AMC informed the state a government that it had increased the number of ventilators in 30 days from 772 on March-end to 1,405 by April-end as part of Covid care management. ICU beds saw an increase from 1,148 to 2,621 while oxygen beds increased to 6,946 from 2,455 at the end of March.
As part of its multi-pronged approach to Covid care management, there were three force multipliers for Covid home care and basic medical services. The number of Dhanvanatri vans was increased from 83 to 143. An additional '104 fever vans' were pressed into service. Till March-end some 45 '104 fever vans' were requisitioned. The number was raised to 190 by April-end. The 'Sanjivani rath' vans increased from 200 to 2,800 in the same month. "The idea was to ensure that hospitals don't get flooded with patients. The three vans were force multipliers in Covid care of the city," a senior AMC official said.