PUNE: All hospitals in the state should keep increasing the number of oxygen-supported beds for at least a month more to handle the current Covid surge, a top official has said.
Dr Subhash
Salunke
, the state technical expert on Covid-19 control, said the bed increase is an immediate short-term measure.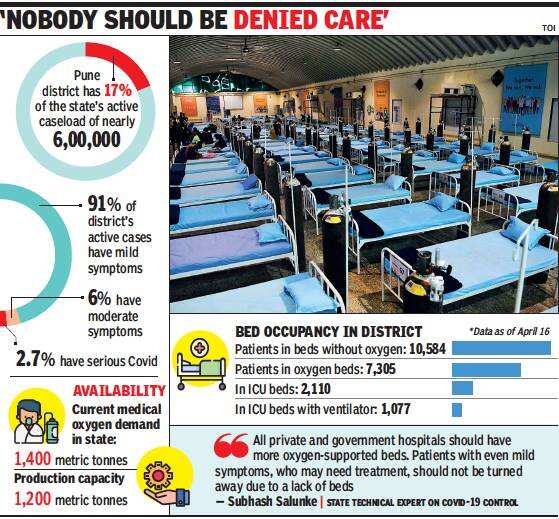 "All private and government hospitals should have more oxygen beds. Patients with even mild symptoms, who may need treatment, should not be turned away due to a lack of beds," Dr Salunke said, adding that the administration is in talks with suppliers for more liquid oxygen and concentrators.
He said the new directive aims to increase beds across all facilities.
"Over the next one month, we'll have to ensure government and private hospitals have enough oxygen beds and oxygen supply. Most patients with breathlessness will require oxygen, so hospitals will need ample liquid oxygen supply or more oxygen concentrators," Dr Salunke said.
He said the next two months will be crucial for the district.
"We cannot let our guard down even after that. We'll have to keep improving our medical oxygen infrastructure," he said. Last week, data showed an addition of 1,096 oxygen beds across facilities in the district. But with a nearly 13% rise in hospital admissions, Dr Salunke said the administration will need more such beds.
The state's daily demand for medical oxygen has risen to 1,400 metric tonnes; its production capacity is 1,200 MT.
Earlier this week, health minister Rajesh Tope proposed the use of oxygen concentrators in small hospitals to ease the shortage of medical oxygen.
Oxygen concentrators draw in room air and pass it through filters that remove dust, bacteria and other particulates.