NAGPUR: After a short break on Holi, Covid-19 tests resumed to the normal 40,000-plus capacity in Vidarbha on Wednesday. As a result, the number of new cases resumed to its average of over 6,000. The region reported 6,050 new cases, 4,971 recoveries and 84 deaths.
This took the total cases to 4.75 lakh with more than 3.99 lakh of them having recovered. Vidarbha's recovery rate which was declining daily since last two weeks remained unchanged at 84.1%.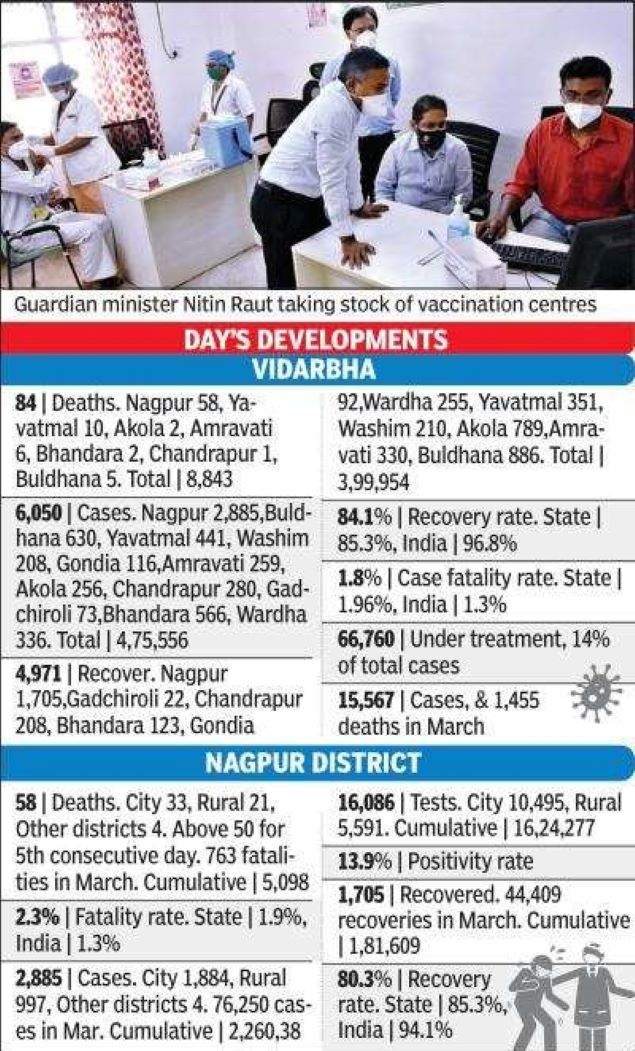 Deaths continued to become a major concern for the region. On Wednesday, Nagpur reported 58 deaths (33 of them from Nagpur city, 21 from rural and 4 from other states/regions). Yavatmal reported 10 deaths, Amravati 6, Buldhana 5, Akola and Bhandara (2 each), and Chandrapur 1.Wardha, Washim, Gondia and Gadchiroli reported no deaths. Now, Vidarbha's death toll has reached 8,843. Vidarbha has reported 423 deaths in the last five days.
As far as the number of under-treatment patients is concerned, total 66,760 patients are recovering in Vidarbha. Though more than 80% of them are in home isolation, most districts have already started facing bed and oxygen crisis.
Nagpur district conducted 16,086 tests of which 2,885 (18%) tested positive. For the first time in the last six days, the sample positivity rate came under 20% in the city. Similar was the picture in Amravati, Yavatmal and even in Buldhana where less number of total samples tested positive.
Chandrapur: There were 208 recoveries and 280 new cases, taking the number of active patients to 2,016. There was a lone death taking the toll to 406. The Covid total has climbed 27,757 while the recoveries amount to 25,270.
Amravati: Three patients died as the toll reached 674. The day saw a spike of 259 cases that took the caseload to 49,635. Total recoveries reached 44,536. This leaves 3,425 active cases.
Yavatmal: The district recorded 10 deaths taking the toll of 658. The administration received 4,098 test reports of which 441 were found positive. Currently, there are 2,489 active positive patients here. The recoveries have reached 25,433.
Wardha: Total 336 new cases were detected of the 1,679 test reports taking the caseload to 18,697. After discharge of 255 patients, the total recoveries increased to 16,542 leaving 1,711 active positive patients. No death was reported. The new cases were detected from Wardha (209), Hinganghat (51), Deoli (26), Karanja (16), Selu (15), Samudrapur (11) and Arvi (11).
Akola: A 70-year-old woman and a 65-year-old man died during treatment. This took the death toll of the district to 453. With 256 new cases, and 789 patients recovering, Akola now has 27,700 cases, including 21,463 recoveries and 5,784 patients under treatment.
Buldhana: Five patients died during treatment on Wednesday. The district reported 630 new cases of the total 4,553 tests and 886 patients recovered in a day. Of the total 37,774 cases, 31,990 patients have recovered while 5,494 are under treatment.
Washim: The district reported 208 new cases, 210 recoveries and no death. Washim's caseload has reached 16,075 including 13,268 recoveries, 187 deaths and 2,619 patients under treatment.
Gadchiroli: With 73 new patients and 22 recoveries; Gadchiroli's caseload reached 10,628 including 10,055 recoveries and 111 deaths. Total 462 patients are under treatment.
Gondia: Of the 1,828 tests in the last 24 hours, 116 new cases were reported. With 92 patients recovering, total cases reached 16,060 with 15,028 of them recovered. No death was reported. Total 841 patients are under treatment.
Bhandara: Record 566 new cases were reported of the 2,141 tests. Sample positivity is above 25% in the district for the first time. Two patients died during treatment. Now, Bhandara has 17,645 cases, 14,760 recoveries, 343 deaths and 2,542 patients under treatment.