NEW DELHI: This November, Delhiites experienced the coldest nights in any November month since India became a Republic in 1950. The month's mean minimum temperature, 10.2 degrees Celsius at Safdarjung, equalled the lowest post-1947 mean for November recorded in 1949.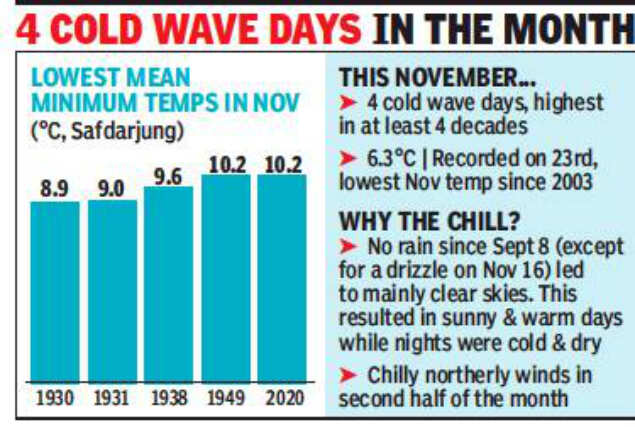 The last time Delhi had seen colder nights/early mornings during November was way back in 1938, when the mean minimum was 9.6 degrees Celsius. The mean minimum is the average of the daily minimum temperatures recorded during a month. The normal mean miminum for November is 12.9 degrees C.
There were as many as four cold wave days in the month, the highest for November in at least four decades. Met officials said cloudless skies, chilly northerly winds in the second half of the month as well as larger global influences such as La Nina conditions in the Pacific all played a part in making it an exceptionally cold month.
A met official said while nights have been unusually cold, days were warm. The average maximum temperature in November was 27.9 degrees C, close to the normal of 28.2 degrees. In November, the city received very light rain on just one day, November 16.
Lack of cloud cover kept min temp low
The last rain spell in the capital was on September 8 while the monsoon withdrew on September 25. Experts said the minimum temperature has been low this month mainly due to the lack of cloud cover which made days warm but allowed the heat to quickly dissipate at night.
"Delhi has mostly seen clear skies in the last two months. The absence of cloud cover makes the day warm while the heat quickly dissipates at night which causes fall in temperature," said Kuldeep Srivastava, scientist at IMD and head of the Regional Weather Forecasting Centre.
Met officials said the other reason behind low minimum temperatures was the wind direction, which was mostly northerly in the second-half of November, bringing in the chill from the western Himalayan region. As calm winds prevailed on most nights, it led to a further decrease in minimum temperatures.
On November 23, the national capital recorded the lowest minimum temperature since 2003 in penultimate month at 6.3 degrees Celsius, five notches below normal.
On Monday, the minimum temperature was 6.9 degrees Celsius, three notches below normal. The maximum temperature stood at 26.8 degrees Celsius, one degree above normal. A met official said the minimum temperature is likely to remain at 7 to 9 degrees Celsius in the next five days. The maximum temperature is predicted to hover around 27 degrees Celsius in the next five days.
According to seasonal outlook for December 2020 to February 2021, released by IMD on Sunday, nights and early mornings are likely to be colder than usual.