AHMEDABAD: Pollution is not a devil that lurks only on roads teeming with fuming vehicles — it also bedevils our homes, schools, and offices. We spend 90% of our time indoors, where we imagine we get a measure of protection against pollution. However, two indoor environmental experts teamed up with the AMC to map indoor pollution in 50 AMC-run schools and found toxic traces in many classrooms.
During the survey, 333 classrooms were covered. In four schools, during peak summer, the experts found traces of gasses such as formaldehyde. They also discovered that Total Volatile Organic Chemicals (TVOC) were above the permissible limit of 0.1 milligrams per cubic metre thanks to off-gases emanating from furniture paint, wall paint, and plywood.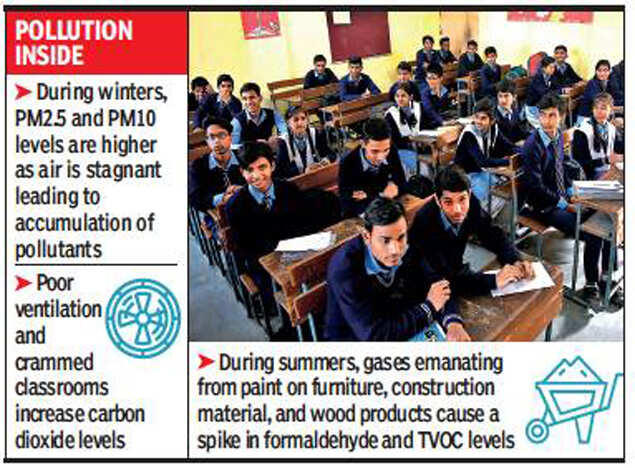 In 35 schools, PM2.5 (fine particles) levels were higher than 25 micrograms per cubic metre during winters. In 33 schools, PM10 (dust) levels were higher than acceptable limits during the same period.
The experts also found that only 13 schools had desirable humidity levels, while only 13% of the 50-odd schools had adequate lighting.
The study was conducted by Sneha Asrani and Dipsha Shah of Cept University. In the case of particulate matter pollution such as PM2.5, the experts found that during winters — between January and mid-February — PM2.5 oscillated between 27 micrograms per cubic metre and 82 micrograms per cubic metre in 35 schools. The permissible limit is 25 micrograms per cubic metre.
In the case of PM10 or dust levels, in at least 10 schools, they reached the limit of 250 micrograms per cubic metre during the same winter period. The permissible level is 100 micrograms per cubic metre. Asrani and Shah point to the effects of indoor air pollution on children's health. "The impact of indoor air quality on students' performance is such that by increasing the outdoor air supply rate inside a classroom, the speed of work increased by 8% overall," the study said.
It also highlighted the fact that children are particularly vulnerable to indoor air pollution as their resting metabolic rate is higher and they have higher oxygen consumption per unit body weight compared to adults. "Thus, indoor air pollution impacts academic performance of children by lowering their concentration levels and even accentuating or triggering asthma and allergies," the study said. "The amount of daylight presenting in classrooms affects students' performance. Higher daylight has shown an increase in test scores." The study found that only six schools had good lighting in classrooms, exceeding 300 lux (unit of light).